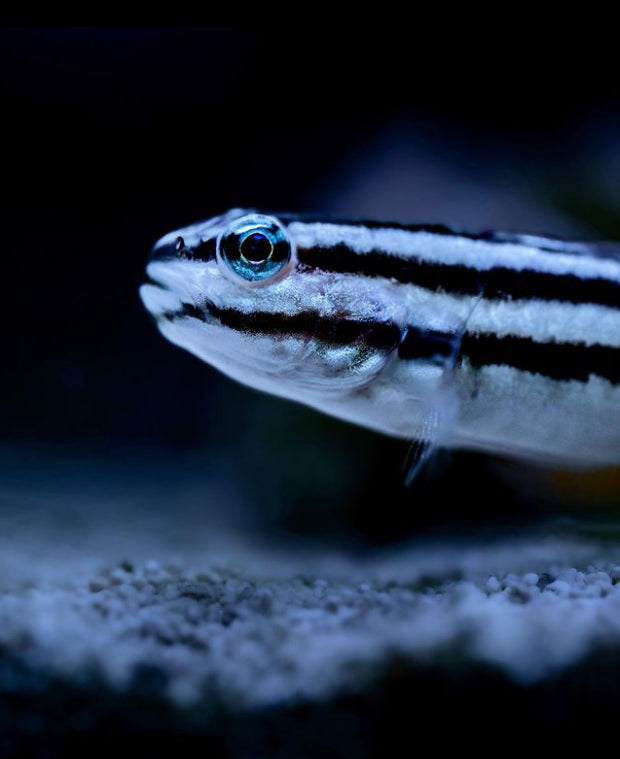 Photo courtesy @shakerbreakersreef
Biota breeds many varieties of peaceful, reef safe "worker" gobies that eat algae and sift sand. These species are difficult to feed when wild caught, but Biota's aquacultured gobies are trained to eat pellet foods, so they will continue to thrive even after they've cleaned your aquarium. Find out which one is right for you and your tank's needs. 
This article will help to answer these common questions: 
What fish eats red slime algae Cyanobacteria? 
What kind of goby sifts sand? 
What fish eats green hair algae in a reef tank? 
What fish eats flatworms in a reef aquarium?
The Sleeper Banded Goby is the classic sand-sifting goby. Over the many decades that this species has been a popular pet, aquarists have reported that they not only sift sand and eat green algae, they eat nuisance Cyanobacteria "slime algae" and even some pest flatworms. This is a bigger species with a big mouth, allowing them to get deeper into the sand bed and sift large amounts of sand. 
Wild caught sand-sifting gobies have a reputation for being difficult to keep because they need so much sand to gather their food and often starve in aquariums. Biota captive bred gobies are trained to eat pellet foods and other prepared foods, so they're much easier to keep.
This peaceful species can grow up to 6" long and is perfect for medium to large aquariums of at least 30 gallons. They may fight with conspecifics, so they can be kept singly or in pairs. 
Not only is this goby beautiful, it's a perfect algae-eater for a nano tank. Their natural diet in the wild contains green hair algae (Bryopsis), so they're perfect for filamentous algae control. They also sift sand with their tiny mouths part-time, keeping the top layer stirred and preventing nuisance algae growth.
Wild court jester gobies are finicky eaters, but our Biota captive bred Court Jester Gobies are raised on pellet and frozen foods, making them easy to feed and keep.
This small species is peaceful and gets along great with other types of gobies, even in a nano tank. However, it can quarrel with its own kind if not enough territory is provided. It's best to keep just one Court Jester Goby in a nano tank, but in larger tanks you can keep pairs or groups if you need some serious algae control.
Not too big, and not too small - Buan's goby packs the best characteristics of its cousins the Court Jester Goby and the Sleeper Banded Goby into a medium sized body. This sand-sifting, algae-eating powerhouse has a similar temperament to the Court Jester Goby - peaceful toward other species and can be kept in groups given enough territory. They typically reach a size around 3 - 4" in captivity, so they're a great fit for most home aquariums. Of course, they readily feed on prepared foods like pellets and frozen foods to help keep them healthy between algae and sand feeding frenzies. 
Admittedly, our pictures don't do this fish justice. When young, they have grey bands on a white body, but as they age, they develop a beautiful red iridescent coloration starting at the head.
Another interesting tidbit about the Buan's Goby is that at the time of this writing, they are ONLY available from Biota and are not collected from the wild for the aquarium trade. 
The Link's Goby is another medium-sized sand-sifting, algae-eating goby with an awesome work ethic. They spend all day sifting sand and picking at algae like it's their job. 
Link's Goby is white with contrasting black bands and grows to about 3", so they work well in most home aquariums. They're peaceful toward other species, but have a bit more attitude than some of the gobies on this list. They should be kept singly in smaller tanks, but can be kept in pairs or groups in larger tanks. 
Like the Buan's, Link's Goby is also not collected for the aquarium trade from the wild and is only available as Biota captive bred. Another interesting fact about Link's goby is that they live in mangrove forests, mud flats, estuaries, and saline lakes in the wild. This makes them a phenomenally sturdy species that is tolerant of a wide variety of water parameters. They do well as a first fish in cycled aquariums for this reason.
Sand-sifting Goby Videos
Watch this Link's Goby chow down on green hair algae: https://youtu.be/wcwUQfjBqAE
A cute Court Jester goby living with nano gobies in a reef bowl: https://youtu.be/ODqosS9DNMc
Buan's Gobies eating pellet foods at Biota Florida: https://youtu.be/M39W3YpHAGg